The National Multi-Faith Conference on Ending Mass Incarceration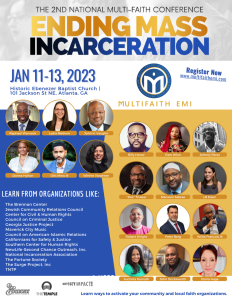 The Second National Multi-Faith Conference on Ending Mass Incarceration is happening at Ebenezer on January 11-13, 2023! The theme of this year's conference will be Let My People Go: A New Day. Our very own Rev. Dr. Raphael Warnock and Rev. Dr. John Vaughn will be joining Rev. Dr. Otis Moss III, Rev. Dr. Winnie Varghese, and more of the premier thought leaders in the work of faith-based criminal justice reform. There will be dynamic plenaries, workshops, panels and films. Register by visiting the link here: https://www.multifaithemi.com/
How Martin Luther King's Activist Spirit Lives on in His Hometown Church
If the walls of Atlanta's Ebenezer Baptist Church could talk, this is what they might say:
They might tell of Adam Daniel Williams, who during his 25-year tenure as senior pastor helped found the Atlanta chapter of the NAACP.
They might recall Williams' son-in-law, Martin Luther King Sr., as he appealed to hope throughout the Great Depression.
And they might boast of a small boy who stood on a milk carton to sing in church choir — the same boy who grew up to be Dr. Martin Luther King Jr., standing on the shoulders of his predecessors to emerge as America's preeminent figure in the ongoing fight for racial equality.
---
Martin Luther King's Ebenezer Baptist Church Aims To Keep Preacher's Spiritual Vision Alive
When the Rev. Raphael G. Warnock steps up to the pulpit on Sunday, he'll face a crowd of thousands in a worship service that marks no religious holiday and is rarely recognized outside the United States, but rivals Christmas and Easter as one of his congregation's biggest days of the year.
Martin Luther King Jr. Sunday has become a worship day across denominations in American churches, but at Atlanta's Ebenezer Baptist Church, where King honed his oratory and found his spiritual fervor, the day takes on additional importance.
---
Freedom Day Bailout
---
VIEWPOINTS: The Fight for the Soul of Our Democracy
Recently, the New Georgia Project, a voting rights organization I chair, was forced to file yet another lawsuit against Secretary of State Brian Kemp. A skilled craftsman in the dubious art of voter suppression, Kemp is stalling the voter registrations of some 53,000 Georgians. As shocking as it is, this is just the latest chapter in an old story and, of late, a growing trend in America. Regardless of political party, we should all see it for what it is – an assault on the soul of our democracy, the sacred trust we have with one another as an American people.
---
Here are the chilling tricks we've caught Georgia using to disqualify voters
A young woman learned her name was no longer on the voter rolls in Georgia. Ironically, she discovered this while training as a canvasser for new voters. Since registering and casting her first ballot in 2008, she hadn't returned to the polls, and under the new "use it or lose it" rule, the system purged her registration.