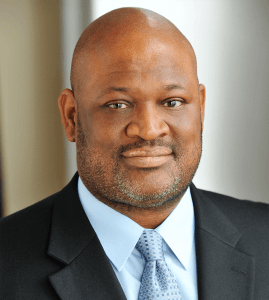 Reverend John H. Vaughn
Starting on February 2, 2020, Rev. John Vaughn will serve as the Executive Pastor of the historic Ebenezer Baptist Church in Atlanta. For the last nine and a half years, Rev. Vaughn has served as the Executive Vice President at Auburn Theological Seminary. Auburn is a national leadership development and research institute that equips leaders of faith and moral courage for multifaith movements for justice.
Before joining the staff of Auburn Seminary, Rev. Vaughn served as the Program Director for the Twenty-First Century Foundation based in Harlem, New York, a national foundation that advanced strategic giving for Black community change. He also previously served as the Executive Director of the Peace Development Fund. The Peace Development Fund provides funding, training and assistance for grassroots peace and justice community organizing throughout the United States and select countries internationally.
From 1996 to 2000, Rev. John H. Vaughn served as the Minister for Education and Social Justice at the Riverside Church in New York City. His responsibilities included overseeing the Church's ministries with children, youth, young adults, adult education, social justice, social services and small grants. Rev. Vaughn has also served as the Director for Community Development at the Community Training and Assistance Center (CTAC) in Boston, Mass; The executive director of East Harlem Interfaith in New York City; The Action Assistant at The Riverside Church, and the Assistant Minister at the Hamilton United Methodist Church in San Francisco, Ca.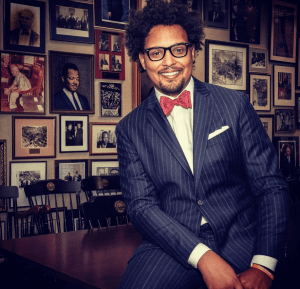 Reverend Bronson Elliott Woods, M.Div
Bronson Elliott Woods serves as the Assistant Pastor of Outreach & Young Adult Ministries. He has 10 years of experience as a Senior Advisor and District Director to Congresswoman Sheila Jackson Lee (TX-18). He is also a Veteran of the US Air Force and a proud member of the Alpha Phi Alpha Fraternity, Inc. He earned his undergraduate degree from Texas Southern University and attended post graduate school at Thurgood Marshall School of Law at Texas Southern University. Minister Woods recently earned his Master of Divinity from the Morehouse School of Religion at the Interdenominational Theological Center. He received his preaching license from the Wheeler Avenue Baptist Church of Houston, where Reverend Dr. Marcus D. Cosby serves as senior pastor. He also holds regular lectures at The Ethiopian Graduate School of Theology. When he is not preaching, Minister Woods enjoys Hot Bikram Yoga, traveling the world, and jazz music. He lives by the motto of "Keep the faith, baby!"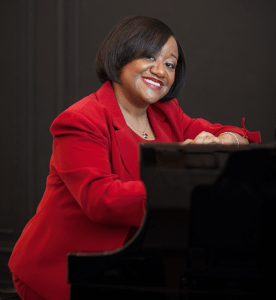 Dr. Patrice E. Turner
Patrice E. Turner is an accomplished classical, jazz, and gospel pianist and vocalist who has shared her gifts nationally and internationally. She received a Bachelor of Music, a Bachelor of Music Education, and a Master of Arts from The Ohio State University. In addition, Patrice received both a Master and Doctor of Music and Music Education from Teachers College, Columbia University. Dr. Turner has been published in Music Educators Journal and the Journal of Religious Thought. As a choral and general music educator, Patrice taught at Johnson Park Middle School in Columbus, Ohio for three years. For 12 years she has worked at Jazz at Lincoln Center teaching WeBop. Patrice served as the Artist in Residence at the First Corinthian Baptist Church in Harlem for seven years.
She is the new Director of Worship & the Arts at the Ebenezer Baptist Church in Atlanta, Georgia. Her debut EP is Introducing Patrice E. Turner, and she has been featured as a singer, pianist, and composer on several other projects. In January 2017 she became the Associate Music Director of Broadway Inspirational Voices. One of Patrice's favorite scriptures is Philippians 4:13: "I can do all things through Christ which strengthen me."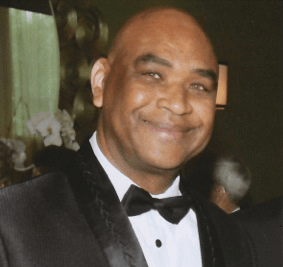 Reverend Carl Young, M.Div
Associate Pastor for Congregational Care
arl Spencer Young, Jr. (Colonel, Retired US Army) is a native of Jacksonville, Florida. He is married to the former Regina Edwards of Englewood, New Jersey. They have one son, Christian.
Following high school Carl joined the United States Navy (1973), during which time he accepted his call to ministry and preached his first sermon at his home church, Bethel Baptist, Jacksonville, Florida.
He was honorably discharged from the Navy in 1977. Upon discharge from the Navy, Carl went on to receive his Bachelor of Arts (1982) and Masters of Divinity degrees (1985) from Virginia Union University, and School of Theology Virginia Union. He later earned his Masters of Theology (1996) from Princeton Theological Seminary, Princeton, New Jersey.
While attending Virginia Union, he was called to his first pastorate at the Ebenezer Baptist Church, Supply Virginia and was thus ordained by his home Church on December 17, 1979.
Carl re-entered the military as an Army Chaplain in 1986 and served Soldiers and their Families in several assignments to include: Battalion Chaplain Fort Knox, Kentucky (1986-88), Community Chaplain Buedingen, Germany (1988-1991), Battalion Chaplain Fort Carson, Colorado (1992-1995), Ethics Instructor for the Army Aviation School, Fort Rucker, Alabama (1996-1999), Group Chaplain 45th CSG Schofield Barracks, Hawaii ( 1999-2002), Deputy Installation Chaplain Fort Campbell, Kentucky (2002-2004), Deputy Command Chaplain First Army, Fort Gillem (2004-2006), Installation Chaplain Fort McPherson, Ga. (2007-2009), Installation Chaplain Grafenwoehr, Germany, (2009-2010), and Command Chaplain Defense Logistics Agency, Fort Belvoir, Virginia (2010-2014). He served as Pastor of 7 different Protestant Chapels around the country and overseas during his Army career. Carl also ministered to Soldiers in combat while deployed to Saudi Arabia during the Gulf War (1991).
Carl's military education includes the Chaplain Basic and Advanced Course, Combined Arms Service School, the Division Chaplain Course, and the Command and General Staff College.
His highest military awards include the Legion of Merit, Bronze Star, Meritorious Service Medal, Army Commendation Medal, and the Joint Service Commendation Medal (awarded for his ministry in New Orleans during the devastation of Hurricane Katrina).
Carl retired from the military March 2014 with the rank of Colonel after 32 years of service. He joined our Church family December 3, 2017.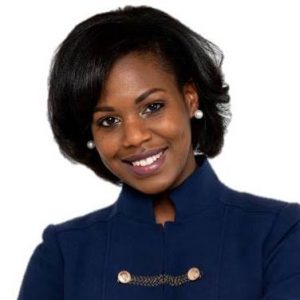 Reverend Chelsea D. Waite, MDiv
Reverend Chelsea D. Waite serves as the Assistant Pastor for Children and College Ministries and leads the Children and Adult Dance Ministries. In 2016, Reverend Waite received her Bachelor of Arts Degree in International Studies from Spelman College. In 2019, Reverend Waite obtained her Master of Divinity from McAfee School of Theology at Mercer University.
Reverend Waite is the founder of "The Empowerment Call: 365 Radical Prayer Call", a modern- day prayer call that caters to teaching the next generation practical principles on how to strengthen their relationship with God while being authentic. Furthermore, Reverend Waite is the author of "The Edge: Purpose Has No Age Limit." Through this book she reveals her journey to understanding her purpose and explains the necessity for one to understand the purpose for their existence.
As a native of Houston, Texas, Reverend Waite was born into the family of Johnnie and Chevalor Banks. Reverend Waite is the wife of Reverend Darien A. Waite. In her spare time, she enjoys liturgical praise dancing, traveling, and meeting new people. More than anything, she has a passion for serving God's people and a love for God.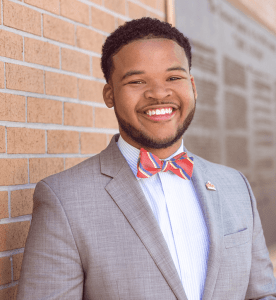 Reverend Darien A. Waite
Minister Darien A. Waite has been serving as Ebenezer Baptist Church's Associate Pastor for Youth and College Ministries since July 1st of this year. In 2012, Darien graduated with his Bachelor of Arts Degree in Sociology from Morehouse College in Atlanta, Georgia. Currently, Darien is a student at the McAfee School of Theology at Mercer University. He is a candidate for Master of Divinity May 2019, and August will mark his nal year as a seminary student. He is the son of Vicky DeShazier and Godfrey Waite, and husband to Minister Chelsea Banks. Above all, he has a tremendous love for people, and an even greater love for God.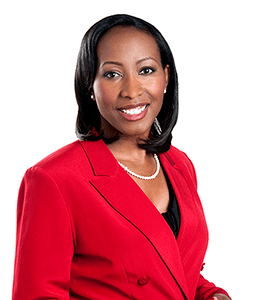 Detria Russell, MHA
Detria Russell serves as the Executive Director for the Martin Luther King Sr. Community Resources Collaborative, located in the Historic King District, Atlanta, Georgia. The Collaborative is an alliance of national and local non-profit organizations focused on eradicating poverty and hopelessness in Atlanta's Old Fourth Ward and Sweet Auburn communities. Russell is charged with the responsibility of fostering a strong network of free and low-cost wraparound community services via local, state, and national partners to the underserved and disenfranchised residents of the Old Fourth Ward and Sweet Auburn areas.
Prior to Russell's employment at the Collaborative, she held leadership roles for notable organizations such as Neighborhood Assistance Corporation of America (NACA), where she served as the Chief Operating Officer and Governmental Affairs Liaison. She also served at the Medical College of Georgia Health, Inc. (now Georgia Regents University) in the position of Assistant Vice President. Russell gained much of her leadership skills from her parents in their family-owned businesses, operated since she was age 9. She is a graduate of multiple leadership programs, a member of Alpha Kappa Alpha Sorority, Inc., and a member of The National Association of Junior Leagues. Through church and civic engagement, Russell enjoys mentoring young women, working with youth, and volunteering at her beloved Alma Mater, Spelman College. She currently resides in Atlanta, Georgia with her husband Jason.