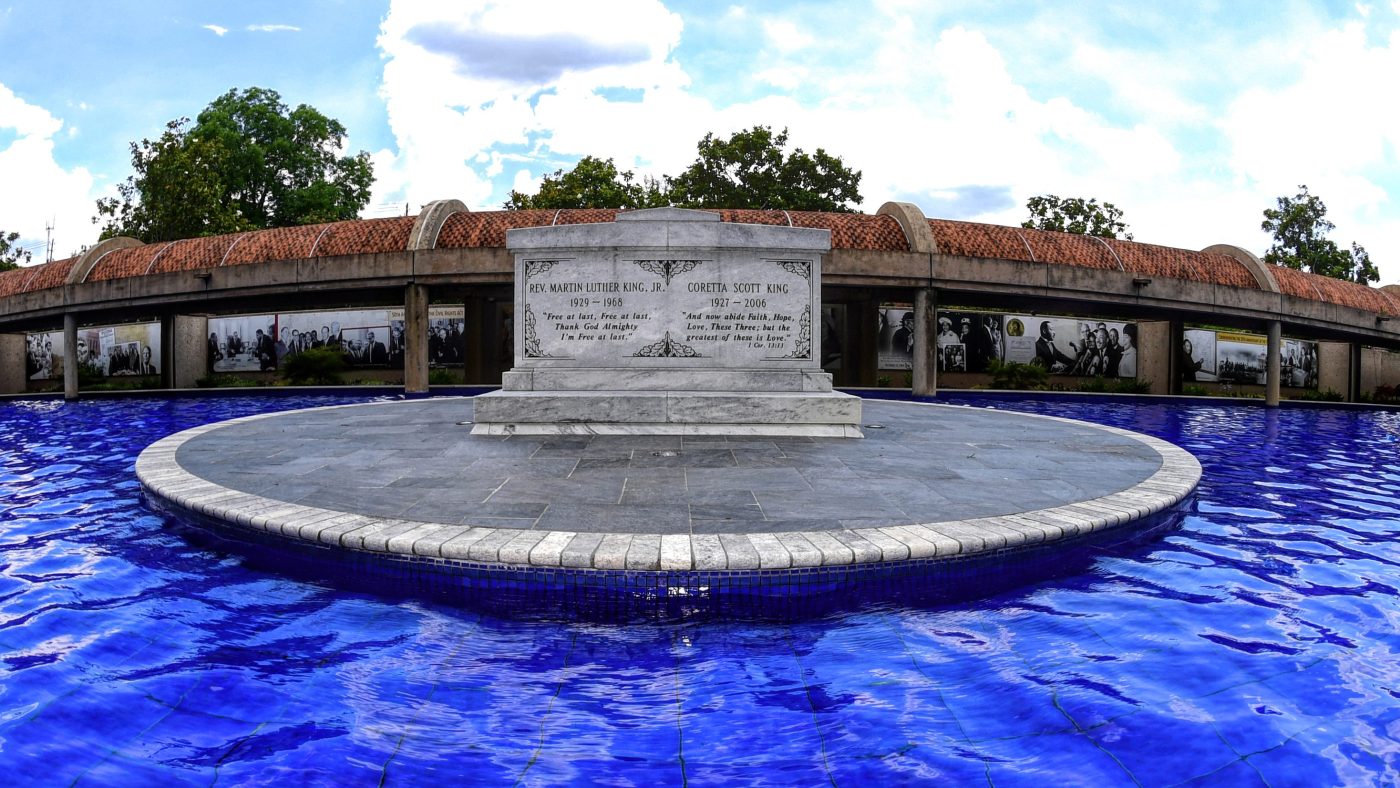 The temple of democracy at 407 Auburn Ave. in Atlanta is underwhelming as temples of democracy go, especially in the January rain, when you're counting on it to restore your faith in all it represents, and maybe even fortify your soul.
Ebenezer Baptist Church is, like all famous buildings, heartbreakingly mortal. It is, unlike all famous buildings much less all famous temples, inescapably humble, made not of marble but rather of red brick the precise color of Georgia clay. It squats rather than soars, more Romanesque than Gothic or Greek, more blocking back than wide receiver. Three stories tall but with no grasping spire, it claims the ground as much as the sky, occupying the corner of a city block like a bulwark. Its stolid architecture announces no ambition greater than a determination to stay put and to hold fast, which, in the light of its history, is the greatest ambition of all. The building is two years shy of 100 years old, and its name, Ebenezer — the Hebrew word for the monument left after a sacrifice, the "stone of help" in the book of Samuel — has been nothing less than its fate.
I have always been struck by the relative modesty of Ebenezer Baptist Church, given its paternal role in the ongoing bloody pursuit of true American democracy. But I didn't visit it a week ago, indeed a week to the day before Martin Luther King Jr. Day, to admire its splendors. I visited because a few days before I had seen another temple of democracy — the one built in Washington to look like a temple of democracy, with its marble facade and its arched cupola; the one that sits upon a hill — yield so easily to those who sought to desecrate its chambers and defile its animating ideal.
I visited because I wanted to see evidence that the spirit of a building could find something like permanence in the walls of a building, even when that spirit is sorely tested.
I visited because, even as one temple of democracy had failed to repel its invaders, the other temple of democracy had succeeded in sending its leader from the pulpit to the halls of Congress, from Auburn Avenue to First Street, Southeast.
I visited because I needed to find a reason for hope, and I believed I might be able to find it at Ebenezer, with its stubborn adherence to the spirit of struggle and faith, and with its connection to a pastor who had become the senator-elect from Georgia.
And then I found the sanctuary closed.