"Navigating Our World" offers biblically-rooted sessions that help us navigate our everyday world.
Whether you are down the street or across the globe, you can join in because our sessions are virtual each Wednesday night at 6pm via Zoom and our Facebook Live.
THIS JUNE! N.O.W. is back with a Bible Study series focusing on the New Testament, specifically the book of Acts and how it chronicles the Early Church. New Testament scholars Dr. Angela Parker and Dr. Jeremy Williams will be with us leading our discussions.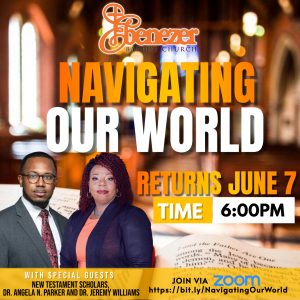 Previous Navigating Our World 2022-2023 Schedule